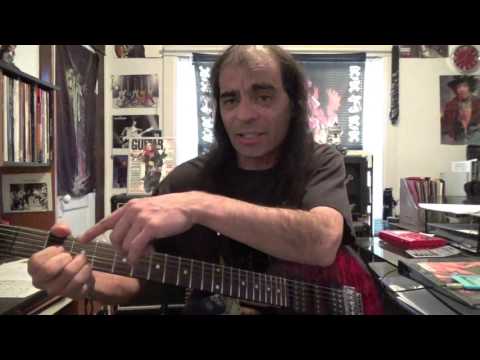 This song Run To The Hills came out on Iron Maiden's 3rd Album Number Of The Beast released in 1982.  It also brought with them the debut of their new singer Bruce Dickinson.
Iron Maiden was a part of the NWOBHM (new wave of British Heavy Metal) and this album broke them wide open in popularity in America.  It would lead to other albums that would produce a string of song creations that would make them one of the biggest selling live acts in the 80's.
When it comes to playing rock guitar, you can't go wrong with Iron Maiden.  Watch the video above and try to learn the song.  If you complete the task you won't be disappointed in the fun and enjoyment it'll bring to your guitar learning.
Here are some pointers to take into consideration when learning this song which can be applied to songs of other bands as well.
Alternate Picking:  This is what creates the "gallup" that is Iron Maiden's signature rhythm that is found in a lot of their songs.  It's based on triplets.  One and a two and a three and a four and a.  If you can get this rhythm down it will not only help you to play Iron Maiden, but also other songs as well such as Barracuda by Heart, and some Metallica songs too.
Palm Muting:  This is a must to get that heavy metal sound that Maiden is known for.  Plus it's also used by a lot of other rock bands as well.  This is accomplished by your rhythm hand pressing lightly on the strings around the bridge.  If done correctly, you should hear a percussive sound.  This is essential in playing this type of music.
Power Chords & single finger barre chords:  These are about the easiest (not to say any are easy) chord types to play.  They consist of one and two finger forms.  Another must to learn in this style of music.  Practice these until you get them down solid.  I guarantee that they will pay you huge rewards for playing all kinds of rock songs.
Watch for changes:  Iron Maiden and bands like them, Metallica, slayer, etc are known for creating songs that take you on a journey of different rhythm passages and tempo changes.  In my opinion, that's what makes the so fun and also so challenging to play.
So practice these tips and if your interested in knowing more about the history of Iron Maiden, you can purchase the DVD from Amazon right here on my site. Just click the banner below.
And remember, if you have any questions feel free to contact me through email, or find me on Facebook at: https://www.facebook.com/dwaynesguitarlessons/Thank you for reading and until our next lesson, take care.  Dwayne Jenkins
{ 0 comments }