In the late 1980's, a rock group came out of Los Angeles California called Guns & Roses.  This band had a very unique sound and was in large part to their guitar player named Slash.  Instead of being a glam band that was real popular at the time.  Big hair, make up and catch songs about partying and making out with girls.  Guns & Roses had a different approach.  Although they did have big hair, they were more from the streets and their look and musical sound represented that.  Axle, Slash, Izzy, Duff & Steve made up a group of guys who would launch the debut album "Appetite for destruction" that would go on to sell millions of copies and put Guns & Roses in the stratosphere with all the greats.  This would be in large to their lead guitar player Slash.
In the video below, Slash talks about his influence and style of guitar playing and gives some insight to what might help you with your playing, it is highly recommended viewing.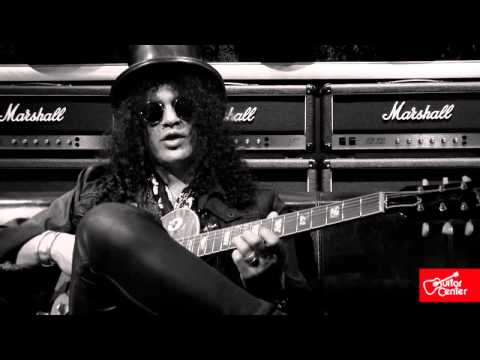 Accomplishment:

 Slash finds that one of his biggest accomplishment is when people recognize his playing from just a few notes.  Which of course is what every guitar player should thrive for.  To develop a style that's easily recognized.  That's what makes great guitar players is that they develop a sound that is uniquely there own.
Influences:

  His influences are guitar players such as Eric Clapton, Joe Walsh, Jimmy Page, Jimi Hendrix, Rick Nielsen & Joe Perry.  All these guys had great little guitar breaks that really said something.  In a very short amount of time, they were able to carry the song along with their guitar playing.
Style Development:

  Says he doesn't really have any certain technique that he's worked really hard on (like finger tapping, sweep picking, arpeggios, etc)  he uses a lot of vibrato but not quite sure where it comes from.  My guess is from all the years of playing guitar.  It's something that has developed naturally over time.
Three Finger Technique:

 Slash likes using 3 fingers more than 4 but does both occasionally.  He feels that there is a different approach to playing when using this technique than using the fourth finger.  He feels it's a different type of dexterity that creates a different type of sound.
Different Music Styles:

 One thing Slash is known for is playing with all sorts of different people of all different music styles.  He says he like to get involved with styles he can find the melody.  Country, Blues, Spanish & of course different types of Rock.  One style he says he doesn't play is Fusion Jazz.  Of course that's a different style all together.
Equipment:

 As you can see from the video, and if you watch him play for any length of time, you will notice he always plays a Gibson plugged into a Marshall.  It's this combination that helps to get that classic rock Slash sound.  If you have any interest looking at one of these items to possibly purchase now or in the future you can click here to see more.  Online shopping is great and very beneficial that you can get many options and check out product reviews.  If you need any help, feel free to let me know & I will do my best to do so.  Thanks for taking the time to read this post & until next time, take care.  Dwayne Jenkins.

{ 1 comment }